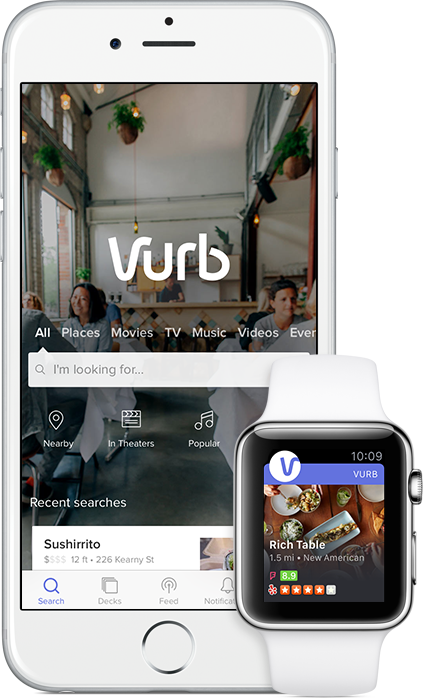 The mobile experience is evolving
It's more important than ever to redefine the mobile experience as Apple and other companies expand from phones to wearable technology and beyond. The current model for searching on a mobile web browser or using multiple, siloed apps to access information and services is broken. It's why I started Vurb. And, with the onset of new technology like wearables and other Internet-enabled devices, people will need apps that provide the most value possible when searching and getting things done on the go.
Vurb is listening
In February, we launched Vurb for the iPhone and are delighted at the response from users. Apple and TIME featured us as "Best New App" in addition to other great press and social media buzz.
We have spent time getting to know our users via feedback forums and on social media. The volume of feedback has steered us towards making enhancements and creating features you want on Vurb. We depend on our Vurb community to let us know how we can create the best user experience possible, and encourage you to keep the feedback coming!
Vurb is better with friends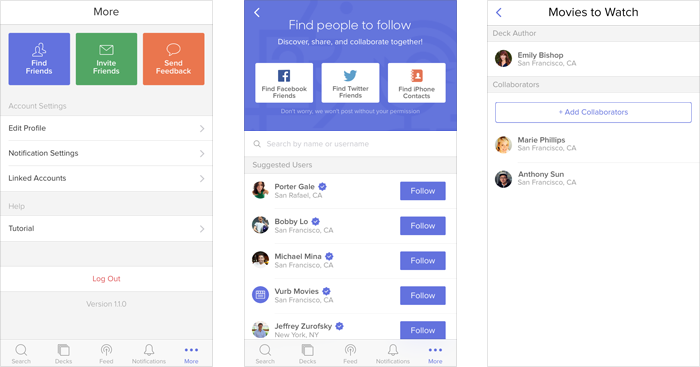 Vurb on the iPhone is now optimized for inviting, finding, and following friends. It's one thing to do a search on Vurb, but users enjoy the experience even more if they can build and curate Decks together, share favorite Decks and Cards, or make group plans directly in Vurb. We encourage users to invite their friends and "Vurb" together.
Vurb expands to the Apple Watch
We are excited to enhance the Vurb experience by launching our Apple Watch app. Like the Vurb iPhone app, the companion app conveniently brings apps and services together in one place, eliminating the pain of toggling between apps to get things done, especially on a small screen.
With Vurb on the Apple Watch you can:
Plan on the iPhone, Do on the Watch
Use the Vurb app on your iPhone to plan a night out with your friends. Access recent Vurb iPhone searches on your Apple Watch without needing to take out your phone again. Whether you searched for a movie, event, or a museum Card on your iPhone, the companion app supports viewing summary information for those Cards.
Get Notifications and Shares
Never worry about missing out. The Vurb app on the iPhone integrates with the Apple Watch's built-in notification system, allowing you to conveniently receive and respond to Vurb notifications with one tap. For example, when your friends "follow" you or share a restaurant Card, Vurb will beam that notification to your wrist.

View Nearby Places
If you're already on the go, you can quickly browse nearby places with the Apple Watch. For example, if you are looking for a place to eat dinner, you can see a list of nearby places on the Watch. Tap on a specific restaurant's Card to view more information. Each Card contains summary information, such as address and phone number, Yelp and Foursquare ratings, and access to Apple Maps.
We eagerly await the opportunity to hear from the digital trailblazers and early users of Vurb on the Apple Watch. Please keep your feedback coming, and be on the lookout for more features, search categories, and other devices coming soon. If you haven't already done so, we invite you to join our Vurb community today.
Thanks for using Vurb.
-Bobby